Flying Changes Christmas Offers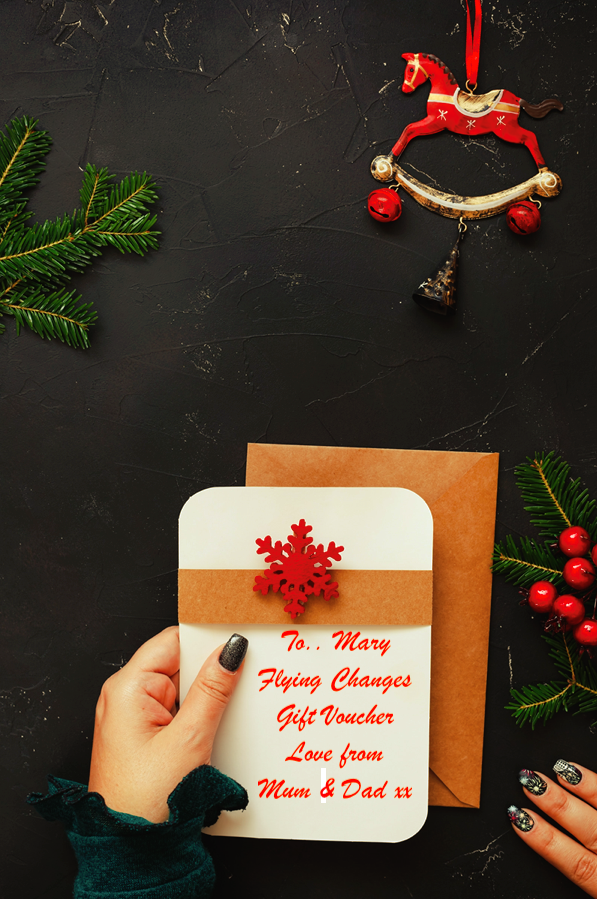 Three easy ways to make you loved ones feel special this Christmas.
Buy a ready to wear in stock item ( excluding sale items) - if for any reason it is not suitable, we will remake it for you, including any necessary customised measurements or details, at NO EXTRA CHARGE in the New Year!
If the 20% discount code is used we will just charge £90.00 for customised measurements and design.


Or it may be simply returned for an alternative size or a full refund.
We will gift wrap this for you and add a little gift from us too.
If you don't see what you are looking for, please ask, as some things may not be listed on the website.
2) Buy a gift voucher for £400.00 or more, to be used against a customised order and pay just £100.00 now. Pay the remainder in 4 easy instalments, at the beginning of each month and the small remaining balance when the coat is ready.
You can choose exactly how much you pay in each instalment.

All gift vouchers purchased between now and the 24.12.2020 and redeemed before 31.01.2021, will allow the bearer to receive all customised measurements absolutely free of charge or a free matching stock or silk tie if used against an in stock jacket or tailcoat. (excluding sale items)
3) Order a customised order now that we will process immediately. Due to the present ongoing situation in Europe we can not guarantee it will be ready for Christmas but if it isn't we will make sure you have a customised stock or silk tie to give as a gift this Christmas and an image of the design if it is a secret. Pay just £150.00 to place the order.
Offer closes 30.11.2020
Sale items may be purchased and either returned or exchanged in the New Year ( unworn) if they prove to be unsuitable in any way.

Make this Christmas a Christmas to remember!

Please call our highly skilled team if you need any assistance at all +44(0) 1793 676516
or
email: info@flying-changes.com
GIFT VOUCHERS